Dear Supporters,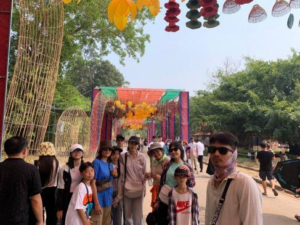 Thank you for praying for us in Cambodia. I pray you and your family are doing well in Singapore. My family and I are doing well. We had a good time together during the Khmer New Year celebration. We visited some places in Siem Reap, and gathered with family, friends, and relatives for fellowship. Many Cambodians traveled to different provinces to visit or to catch up with their families. I thank God for protecting and strengthening us during the Khmer New Year break.
English School
We hope to see our students able to communicate with us in English. We pray that their relationship with God grows everyday. We finished some parts of Textbook 2 before the school holiday, so that everyone can rest and enjoy the break and return to school refreshed.

Peam Sunday School
All our students had much fun celebrating the Khmer New Year. We worshiped, prayed, and played a lot of games, which included traditional games too. There were prizes for everyone, and students got to bring home some food.
I would like to share one interesting and touching testimony from one of our older students. But before talking about her testimony, let me tell you what some people in her community believe in. They believe that if they can get their virgin daughters possessed by ghosts, they will get good health, wealth, and happiness in their family. So, they have a ghost possession ceremony where they call out many ghosts to get into their daughter's naked body, and let her dance like crazy in the midst of people.
Srey Ya, one of our students was forced to do a ghost dance. She cried after the ceremony – her parents have never cared about her and just wanted to get a lot of money. And, it seemed they did.
Another student, Rosa, 14 years old, accidentally overheard her parents discussing sending her to a ghost dance because they wanted to have money. She ran into her room, knelt down and prayed. She asked God to help her as she was afraid. God answered her prayer. Her parents changed their mind because they did not feel well, and so didn't send her to a ghost dance. Rosa said: "God is real, he is listening to me." She encouraged others to pray to God too.

Kok Thmey Sunday School
We taught students in Kok Thmey village about Easter day. The whole church, and not just the children, also celebrated the Khmer New Year. We washed the feet of our elders, and they prayed for us young leaders. I thank God that he calls all of us his children, and he gives us opportunities to serve him.

Thanksgiving for:
God's protection during Khmer New Year
My daughter getting first place in her English class
A wonderful school holiday
Prayer Request:
Wisdom and strength
Building permission
Safe journey for students travelling back from their hometown
Financial support for Pastor Bunnath at Kok Thmey Church.
Sreisros