It was literally a dusty, bumpy and narrow dirt track shared by people, vehicles and cows leading to the destinations where our hearts were. But we never failed to enjoy the wisp of freshness from the infectious smiles of our hosts and the children when we reached there.
The work started in Siem Reap is not without a hitch, but there are always hopes and possibilities, and tangible progress no matter how slow and jerky it is; and of course wisdom and guidance from our Lord.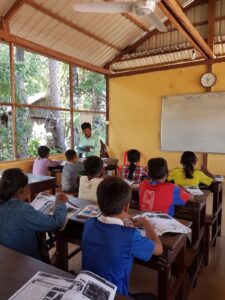 PCEF headed by the principal Mr Pagna is facing a funding crisis because their main sponsor has withdrawn support. Mr Pagna, though not in the best of health, continues to struggle with administrative and manpower problems.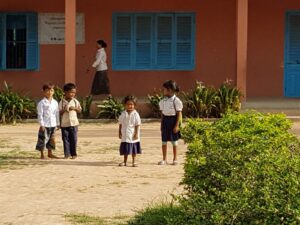 The visit to Lovea Primary School firmed up the practical help of co-sponsoring the provision of electricity to the school and provided valuable time to explore and prioritise projects that will improve facilities.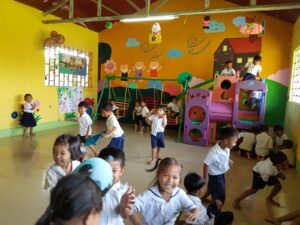 We certainly would like to see the effort Ms Yoo, principal of Paradise Mission School, and her team put in to nurture the children and spread the Gospel continue and bear fruits. Paradise Mission School has a well-run programme based on the local curriculum with infusion of Christian teaching.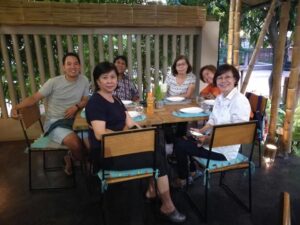 On this trip we also met up with personnel of 2 social enterprises over meals and learnt about the work they do in Siem Reap, and gathered first-hand knowledge of the life and culture of the Cambodians. Singaporeans Govin and his wife Betty operate Bread of Life (BOL) BnB & Café, which doubles as a training place for Cambodian youths who wish to join the hospitality industry. Govin and Betty believe in Christian discipleship and model the training in that vein. They have had a fulfilling ministry in Siem Reap for about 8 years. Desmond, another Singaporean also manages a hospitality training school with an on-site café, Spoons, under the umbrella of EGBOK. EGBOK is an NGO which reaches out to disadvantaged youths with various programmes. The business from Spoons generates revenue for EGBOK to sustain its mission.
While we need passion in the work we want to do in Siem Reap, we also need patience and understanding. Life is tough for an average Cambodian. Help is always welcome, but we have to be sensitive and respect their space. But still, we want to be able to share the Gospel with them. It is a continuous learning journey in cross-cultural missions. May we find favour with the Lord in the work we do there. I saw this line on a banner in Ms Yoo's school, "Everything is possible in the Lord (equivalent Mark 10:27)." Truly we rely on the Lord for the work.