This was my second visit to the school. The first was over a weekend meeting with Mr Pagna that was quiet and business-like. This was different; the classroom was packed with students, children were loitering around waiting for their classes to start and the voice of the children reciting English statements rang aloud in unison. The enthusiasm was overwhelming.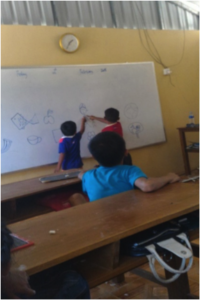 There are two beginners' classes in the morning. The first is simply called 'ABC'. It focuses on word recognition and pronunciation. In this class, the teacher drew pictures on the whiteboard for children to take turns to identify them and to write the first alphabet of the word. The second class is called 'SPELL', which as the name suggests, focuses on learning to spell words correctly. Here, we enjoyed watching competitions between pairs of students dashing up to the whiteboard to point at words read out by the teacher. What came next was a pleasant surprise; those statements were sang into melodies. I cannot but appreciate the variety in the manner the lessons were delivered despite of the absence of teaching materials.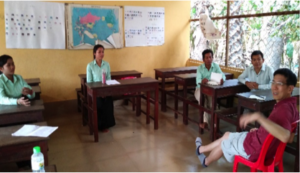 In between the classes, we talked with the teachers and the top two needs raised were
1. Student textbooks and workbooks
2. Improving the level of English competency among the teachers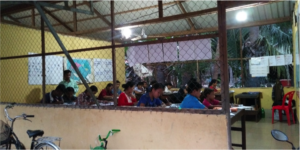 Since there are no street lights in the village, I was expecting the six night classes to have fewer students. But I was wrong! In fact, the night classes were more packed.
As I observed one of the classes, I smiled to myself because I noticed two teachers who taught in the afternoon's pre-school level seated among the students. The teachers want to improve their own level of English competency so that they can be better teachers! A song came to my mind, 'And the Gift goes….. on and on and on'.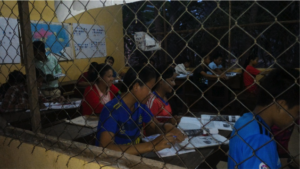 The 2 ladies in red (middle of picture) were teaching the afternoon classes.
After this visit, I feel very heartened by the dedication and passion of the teachers to teach and learn English. It is our prayer that their good work will continue so that they can benefit Lovea Village.